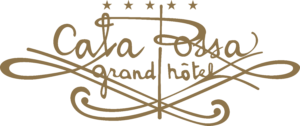 Leaving Cala Rossa is the hardest thing…
Tucked away in one of the Gulf of Porto-Vecchio's most peaceful coves, the Grand Hotel de Cala Rossa has been living its 'refined family-estate life' for over four decades now. 
Nestled in the heart of a privately owned park, along the pristine expanse of a powder-soft sand beach, this Eden has ensured the continuous upkeep of knowledge on how to warmly welcome an international clientele and endless generations in a manner to suit all. It is your atypical hideaway by excellence, renovated in time with the gentle passing of Time. A location with heart-warming ambience, elegance and refinement, where souvenirs leaping up from the past melt in unusual harmony with modernity.
Cala Rossa is also the promise of a sumptuous meal. It is with talent and expert sleight of hand that Pascal Cayeux and Francis Péan combine and pair the best regional products with their daily pickings from our very own organic garden patch.
Cala Rossa offers an alchemy between sports and wellbeing
We boast a 500sqm spa designed by Clarins, a cutting-edge gym kitted out by Technogym, and a competent team of 10 professionals (beautician, osteopath, coaches, hairdresser) present onsite, day by day, to answer to any requests. Nucca is a 100 % home-made organic brand made of plants originating from the island.
One of our highest-rated homemade rituals: to walk barefoot, whilst the rest of the hotel is still fast asleep, along the 2km expanse of our beach, and to be rewarded upon your return with our breakfast–something of a Sunday brunch every morning.
39
Luxurious Rooms & Suite
100% Bio & Natural
Vegetal garden and Spa products
Accommodation
Standard Rooms (4 units / 22 – 26 sqm)

Grand Confort Rooms (21 units / 30 à 36 sqm)

Junior Suites (7 units / 35 – 50 sqm)

Suites (6 units / 50 – 60 sqm)

Cabane (1 unit / 37 sqm)
Connecting rooms on request.
LA PINEDE
Chic bistro offering the best of Mediterranean flavours for seafront lunches and dinners under the secular pine trees. A southern cuisine showcasing the best products with vegetables from the hotel's private garden and also fine Corsican products.
Lunch from 12.30 – 2H30 pm (summer)

Snacking from 2.30 – 5.00 pm

Dinner from 7.45 – 9.30 pm
I PIATTINI
Light dishes to share between guests for dinner in the gardens of the in-house bar.
Small tasty plates to share close in the garden

Dinner from 8.00 – 9.30 pm
PANZAROTTI
An elegantly casual place with attentive service, fine food, will revisit the typical dishes of the Peninsula, with a selection of the best products coming directly from the neighbouring Sardinia.
Italian meals

Only for dinners (closed on Thursdays)

From 7.45 – 9.30 pm
THE INDOOR BAR
In the heart of the hotel, with its superb terrace set in greenery and smoking room with immaculate linen curtains, this is the place to relax  at the end of the day. As the sun sets, tranquillity returns, interrupted as you draw closer by the clinking of shakers heralding treats in store.
THE BEACH BAR
On the waterfront, entirely built from wood, it's the place to be! For a morning coffee, facing the sea as the bay slowly awakens, for a peaceful look at the day's news, for a large glass of rosé on ice at aperitif time, for gourmet and ice-cold teatime treats, for a coupe of champagne at sunset.
LA TISANERIE
Every sunny morning under the Cala Rossa gazebos in the garden, complimentary natural drinks with abundant therapeutic virtues, created by our "home-made" brand Nucca, are offered for you to slake your thirst or to enjoy during a moment of meditation. "So green"!
Spa by Nucca
The Spa by Nucca, an intimate yet radiant place, offers 7 treatment rooms built along tree-lined patios and teak walkways in a 500 m² area. The services available also include a nail bar, a Léonor Greyl & VP hair salon, a herbal tea room, a swimming pool with underwater music and a sauna. This area is for adults only.
500 sqm Spa facilities

Large indoor heated pool (adults only)

Aquagym and stretching lessons with a coach on request

Fitness room

Stretching with coach
Leisure & Activities
Private beach area

Complimentary sea excursion

Sailing

Diving

Water skiing

Windsurfing

Kayaking, canoeing

Hiking

Boat rental

Murtoli Golf Links

Sperone Golf Course

Tennis court at 800m distance from the hotel

Horse riding at 5km
Location & Access
Address: Domaine de Cala Rossa, 20137 Porto-Vecchio, Corse.
30 min Figari airport

2,5 hours from Calvi & Ajaccio

2 hours from Bastia 
By boat, maritime connections from :
Marseille, Nice, Toulon, Genoa et Livorno

Arrival in Bastia, Porto-Vecchio and Ajaccio
For any questions, please contact us: